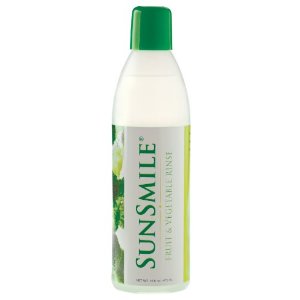 Fruit and Vegetable Rinse Ingredients: Decyl Polyglucose corn Benzoin Extract, which is a natural antiseptic, preservative and cleanser. Benzoin Extract, a biodegradable cleaning agent derived from corn and coconut.
Benefits:  This high performance formula may rinse away fungus, bacteria including ecoli, salmonella and parasites including Guardia. protozoans and parasitic worms and their eggs. It could dissolves waxy substances and neutralizes pesticides and other chemicals.  Ingredients are non-toxic. No need to rinse after soaking produce.  Produce stays fresher longer.  Environmentally safe for daily use. Fruit and Vegetable Rinse was developed using the latest technology in Sunrider's over 2 million square feet of state-of-the-art manufacturing facilities. 
How To Use:  Mix one capful (5 mls.) of Fruit and Vegetable Rinse in one gallon of room temperature or warm water. Soak for two minutes for most produce. Heavily waxed produce like apples may need a ten minute soak and use a bristle brush after to remove all wax.   The prepared solution is active for one hour after adding to water.