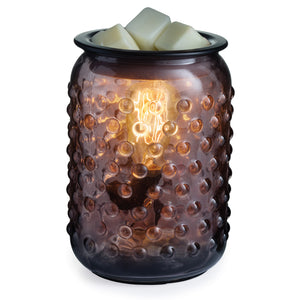 The distinct glow of a vintage bulb is visible through a smokey, charcoal colored glass with a simple hobnail pattern.
Illumination Fragrance Warmers use a halogen bulb to warm melts Menthol Crystals or wax in the dish, releasing their fragrance. 
The soft glow of the bulb creates the ambiance and fragrance. Helping with pollutants in the air.
Simply add Menthol Crystals or wax to the dish, turn it on, and enjoy your fragrance as it spreads through the room.