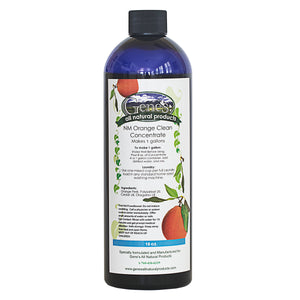 This is a laundry additive and a cleaner for counters and bathrooms in a 16oz bottle.
This could help in getting mites and bacteria out of cloths. 
Can also be used as a spray for cleaning the air.
Directions:
First Shake 16oz bottle and then mix 16oz container with 1-2 gallons of water use 1/2 to 1 cup of diluted solution with each load of standard home size Washing machine. Then also add your normal laundry detergent.
Orange peel could act as an anti-bacterial and anti-microbial agent. One of the major components of Orange Peel.
Ingredients:
Orange oil, Polysorbate, Cedar, Oregano
Man's very first cleaning product was the citrus fruit. The cleaning power lies in the peels of the fruit.
Below are some of such applications:

Air Fresheners
Automotive Cleaners & Degreasers
Carpet Care Products
Floor Cleaners & Degreasers
Furniture Cleaners/Polish
Herbicides
Indoor and Outdoor Cleaners & Degreasers
Laundry Products
Personal Care Products
This information is for educational and research purposes only. It is not intended to medically prescribe or promote the sale of any product, nor is it intended to replace qualified medical health care. If you have, or think you have a condition which requires medical attention, you should promptly seek qualified health care.
Keep all Herbal Preparations out of the reach of children.