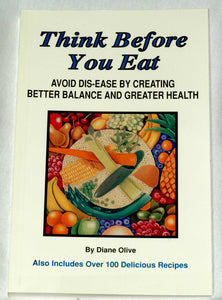 A journey to complete health, taking the reader step by step to an understanding of the immune system and information to strengthen it. At age 29 Diane had problems with depression, arthritis, candida, stomach aches, irritable bowel, painful liver, TMJ and food allergies. She changed to a healthy vegetarian diet with lots raw foods and in 4 months her "health problems were vanishing." Also the healthy diet fixed all the menstruation problems.
Interview with R.C. Dini author of Nature's First Law: 
"Everyone should read a book written by Diane Olive called Think Before You Eat. She has great stuff to say on that (menstruation) and other subjects."